V10 Virtual Race 3 - 柏架歷史遊:14公里的虛擬賽事,延續V10系列 Race 1 荷蘭徑到 Race 2西貢古道,探索舊香港歷史的精神。
​
上攀柏架山這個港島第二高的山峰,由吊車遺跡開始,一路尋找:政府戰前籌建的大鑊飯公共飯堂,日軍二戰時期守山的山洞與隧道,大風坳療養院的地基;沿山腰繞往大潭百年水利一部分的"猛鬼橋",經隱身在墳場地帶的圓頂清真寺,最後在歷史博物館5個分館之一,柴灣目前碩果僅存一座客家古村屋,有200多年歷史的法定古蹟 - 羅屋民俗館作結。
精美跑手包內有適宜夏日行山的好物,包括Aonijie止汗帶和小軟樽,更可加構懷舊香港系列的手機平板貼紙,將昔日香港帶著到處走。
​
After Dutch Lane and Sai Kung, V10 continues to explore the history of Hong Kong, this time up to and around Mount Parker.
​
V10 - Historic Parker climbs the 2nd tallest hill on Hong Kong island. First, trace the Taikoo Ropeway remnants, Japanese WWII caves and tunnels, and the base of demolished Sanitorium at Quarry Gap. Then, descend and run around the hill to cross the Ghost bridge - forms part of the century old Tai Tam waterworks - and onto the Mosque quietly sitting in the cemetery area. Finally, arrive at the declared monument that is the Law Uk Folk Museum, the only remaining 200-year plus old Hakka house standing in Chaiwan.
​
Runners would get a summer-esque runner pack with sweat straps and a 250ml flask amongst other goodies. In addition, we have a selection of old times Hong Kong Sticker sets, which can be added to your registration for decorating your phone or tablet.
虛擬賽事資訊 Virtual Race Detail
登記期限: 2021年5月3日至6月10日
每位 $180
2020年4月前已報實體賽 "V10 - 柏架鐵棧道" 或實體賽 "V10 系列賽" 選手可免費參加
​
虛擬賽事期間: 2021年5月14日至6月13日
​
​距離: 14公里
​起點: 鰂魚涌基利路康景花園
終點: 柴灣羅屋民俗館
​路線: 吊車徑 - 大風坳 - 柏架山 - 康柏 - 耀東 - 柏架棋山徑 - 猛鬼橋 - 柴灣清真寺 - 羅屋民俗館
Registration Period: May 3 - Jun 10 2021
HKD 180 / person
Registrants of 2020 Physical "V10 - Parker Pipes" & "V10 Series" prior to end Apr-2020: Free Entry
​
Virtual Race Period: May 14 - Jun 13 2021
​
Distance: 14km​
Start: Mount Parker Lodge, Greig Road, Quarry Bay
End: Law Uk Folk Museum, Chai Wan
Route: Taikoo Ropeway - Quarry Gap - Mount Parker - Hong Pak - Yiu Tung - Parker Contour Trail - Ghost Bridge - Chaiwan Mosque
賽道 GPX
下載GPX到手機GPX程式或GPS手錶,並於活動時緊隨其路線。亦有圖像檔,Strava及Google Map 檔案供快速參考。
Download the GPX route onto your phone app or GPS watch. Follow the track to complete the course. Enlarged graphic map, Strava and Google map are also available.
GPX - Direct Download
GPX - Dropbox Download
Graphic Map
Google Map Link
由柏架山頂經貓爪石落山到康柏一段,初段的竹林及一段坡板面較為陡峭,小心行進.
Please beware of the downhill from Mount Parker to Hong Pak Country Trail via Wifi Rock, as the initial bit is very steep through a bamboo bush and a rock slab surface.
跑手包領取 Race Pack Pick-up
Apex Sports Tsuen Wan 荃灣店
領取日期: 2021年5月12日至6月10日
領取時間: 星期一至日 12:00 - 20:00
地址: 荃灣青山道264-298南豐中心15樓1516B 室
Pick-Up Period: May 12- Jun 10 2021
Time: Opens Daily 12:00 - 20:00
Address: 1516B, 15/F, Nam Fung Centre, 264-298 Castle Peak Road, Tsuen Wan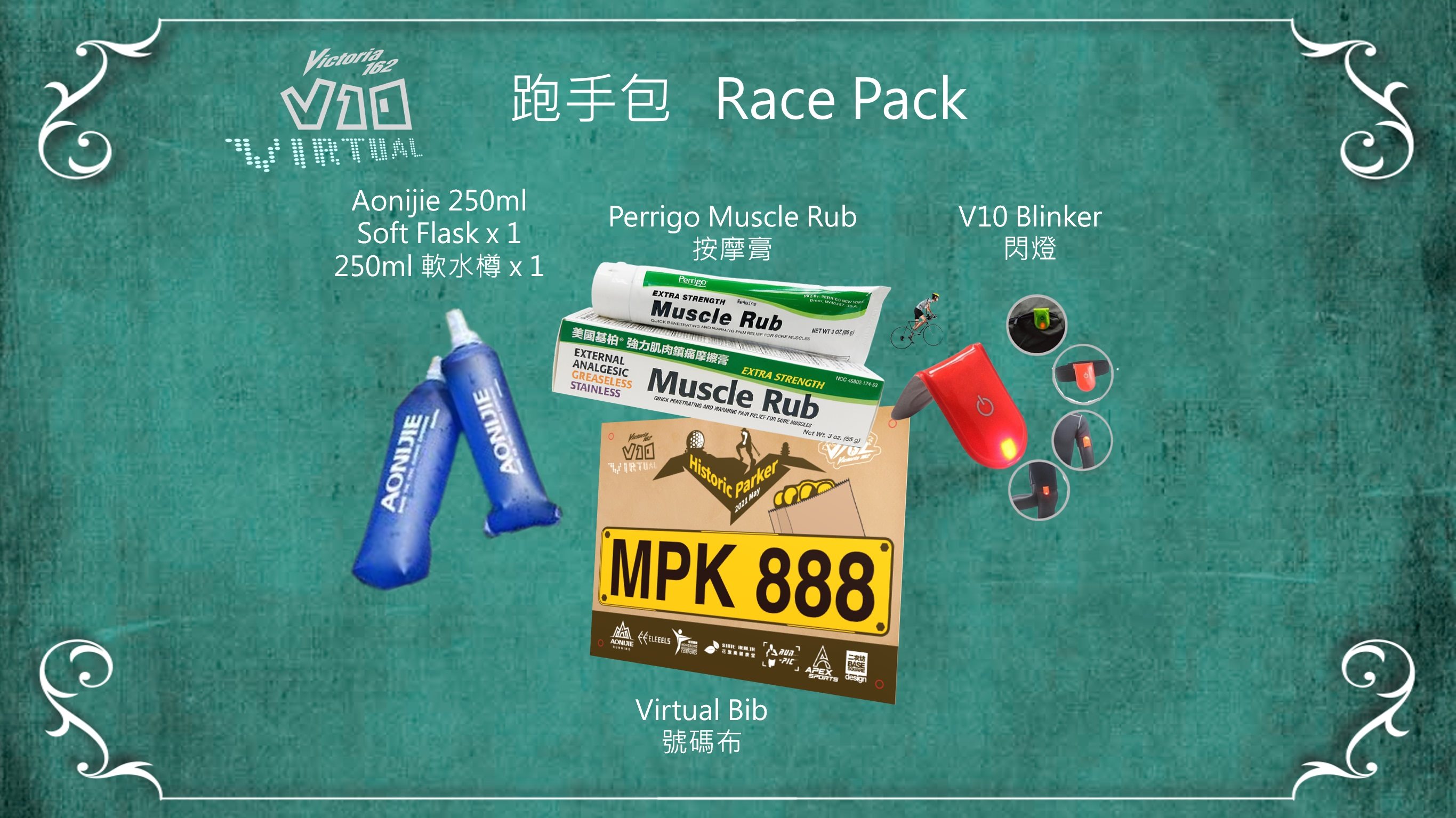 起步及計時 Timing & Checkpoints

參與活動時,請理解個人風險,並必須遵守有關的法例,包括但不限於適用的限聚令人數,不運動時配戴口罩,保持社交距離,一齊抗疫。
Please participate at your own risk and strictly adhere to the current regulation including but not limited to: maximum gathering limit, mask wearing when not exercising and social distancing. Stay hygienic and keep health threats at bay.




完賽獎品 Finish Prizes

可憑完賽紀錄到 Apex Sports 荃灣店領取完成獎. 領取日期: 2021年5月20日至6月15日
Finish pack may be picked up from Apex Sports Tsuen Wan. Pick Up Period: May 20 - Jun 15 2021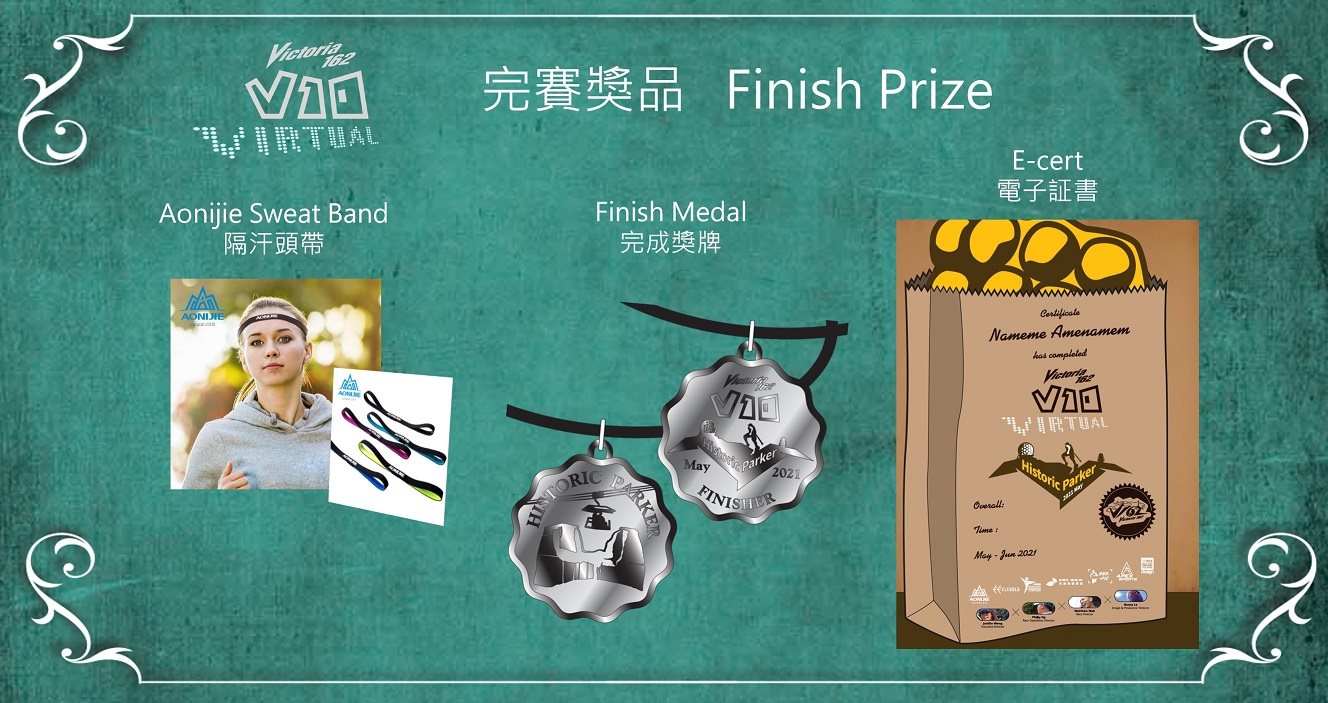 三甲獎品 Podium Prizes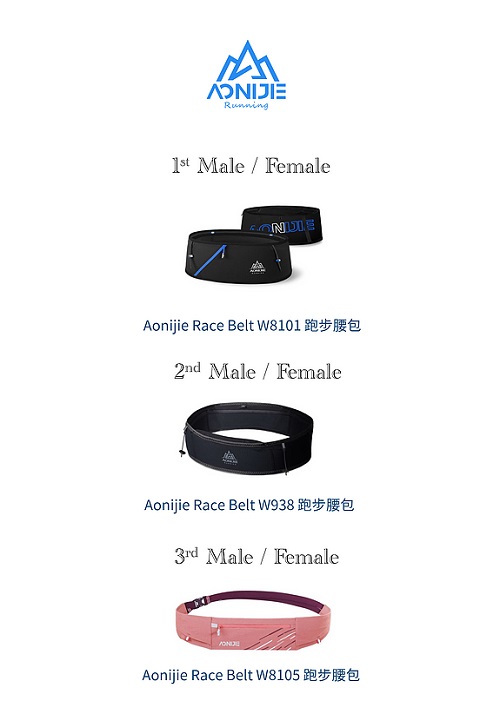 Organiser
Air One
In case of questions about the event please contact Air One: